news / political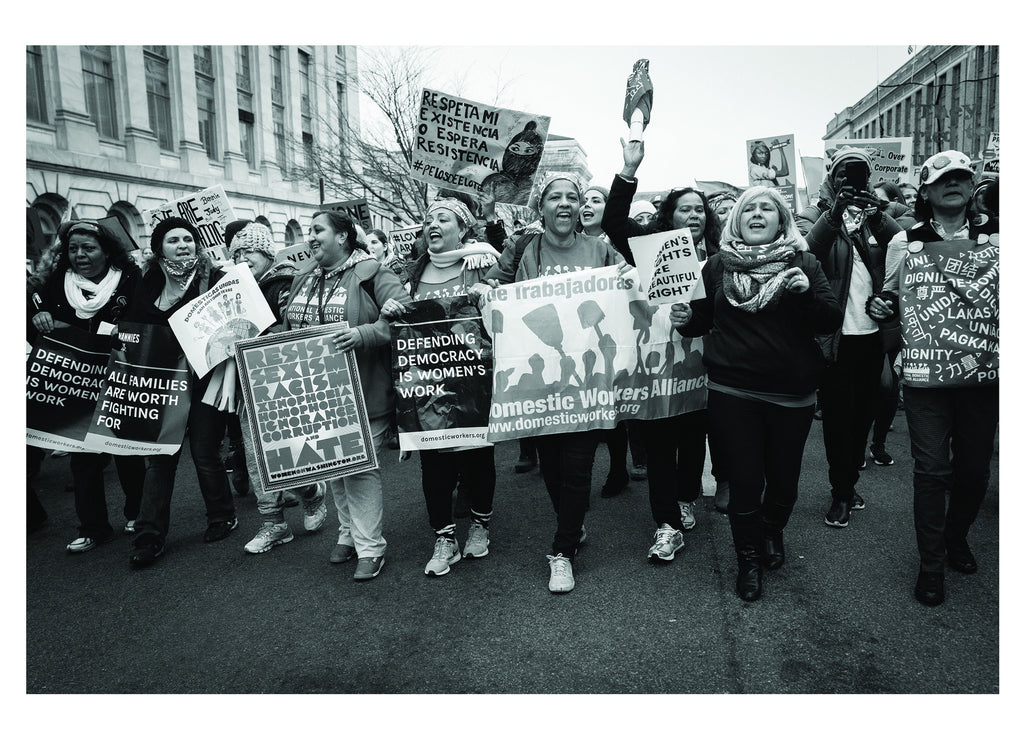 "For every atom belonging to me as good belongs to you."
                                    —Walt Whitman, Song of Myself
 Feminism and resistance take center stage in the exhibition Nope: The Women's March on Washington, Photography by Torz Dallison, currently on view at Diana Kane's project space in Brooklyn. Dallison's photographs capture the vitality, human compassion, and strength of the millions of protestors who participated in the Women's March on January 21, 2017. On this historic day, an overwhelming sense of synchronicity and collective unrest unified the nation and the globe in the pursuit of a commitment to human rights and equality. Dallison's singular portraits and large-scale panoramas respond to a universal and incisive question: Why do we march? Embodied among the strident interlocked figures, and the solitary heroines, we find a reservoir of tenacity, urgency, and activism. Above all else, Dallison's photographs seize the subtle yet critical directive of the Women's March to assemble and resist with civility.
 Accompanying the installation is a beautiful catalogue for purchase, with an introduction by art historian Aliza Edelman, featuring over fifty images by Dallison. Nope is Diana Kane's second feminist project following the presentation of Portraits of Women: Icons and Feminists, and will be on view through May 17. A closing party will be held at Diana Kane on Saturday, May 13, 5-8PM.
Read more →
---

Yup. It is. What's happening in your macro life is effected by what's happening out there on the world stage and right this moment what's happening is the revelation of national misogyny on an shocking level.
What can you do? VOTE. Vote for the first woman president. Make history. 
To that end we are hosting an event at the store on Wednesday, October 19th from 6-9pm.
With the election mere weeks away it's time for a last push. Come out to contribute: Raise funds for the campaign, connect with others who want ot Get Out The Vote, get your own (very limited edition) Vote Feminist (Feminist Gold meets #ImWithHer) Tee, make buttons, buy raffle tickets and other swag (who couldn't use a spa day at d'mai??), pick up a copy of the official Hillary Clinton Coloring book that Selina Alko and Sean Qualls contributed to, drink wine and hot cider, and generally keep the momentum going.

Judy Goldberg will help you organize- if you're interested in traveling to a swing state to canvass, but have never done it before or even if you have, she'll hook you up. Or if phonebanking is more your speed, she can help you there too.
It ain't over people. And it's not too late to make a difference.
Bring your friends, bring your (older) kids, bring yourself.
Suggested Donation: $10 
See the Facebook event here: https://www.facebook.com/events/1366919546666453/
Read more →
---
---
---